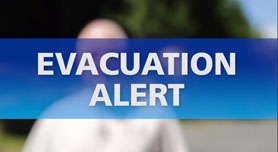 Click to view the Evacuation Alert video on YouTube
Alerting the population at risk of the impending danger. At this point, the movement of handicapped persons, transient population, including vacationers, and in some cases, school population, and any voluntary evacuees, should become a priority.
Possible methods of warning the population at risk may include door knocking; media broadcasts; mobile public address; telephone calls, and electronic media.
The Alert should identify hazard/emergency zone(s) and travel route(s); identify reception center locations; and advise the method of declaring an "All Clear" and procedure for issue of controlled re-entry passes.
An Evacuation Alert occurs when it is recommended to evacuate within a certain perimeter until the initial situation in contained.
An Evacuation Alert may allow for the affected population to begin an orderly preparation to leave the affected area while informing them of the hazard.
Evacuation Alerts do not require a declaration of a State of Local Emergency.
If you hear from a Media Information Release that an Evacuation is anticipated, be sure to note whether it is an Alert or an Order. How you respond is different for each stage, and important to remember. Following these guidelines helps first responders to help you more quickly and safely.
If an Evacuation Alert has been issued:
Gather essential items such as medications, eyeglasses, valuable papers, immediate care needs for dependants, and valuable keepsakes. Include a couple of blankets and pillows. Be practical about what to take with you. Make them available for immediate access for a quick departure.

Keep track of the location of all family members and determine a planned meeting place should an evacuation be called while separated.

Immediately relocate large pets and livestock to an area outside of the evacuation alert.

Arrange accommodation for your family in the event of an evacuation. Emergency Social Services will be available to provide reception centres and emergency relief for periods of 72 hours.

Water vegetation adjacent to structures if water supplies and time permits.